---
Dear Goddesses we unite in meditation from our femenine essence, promoting our personal change to generate the impact of the change in our surrounding
" He who is able to unite the germs of the eternal breath life with the atoms of his flesh becomes master in the bosom of eternity. Whoever has achieved this will become as light as the morning breeze upon our earth and as transparent as the gem, his body does not cast a shadow on the ground because it has acakened the Sun within itself. "
Anne y Daniel Givaudan
From Love
Namasté
Circles of the Gods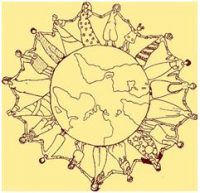 Powered by: Siri Sundri Kaur
SuperMoon 14 November 2016
We like the Moon, our beloved Goddsses dance to the rhythm of the moon, which better offer to the Super Moon and femenine energy than to join us in a collective meditation.
This Moon proposes a work of materialization, bringing to action what we have in our field of desires deeper, ultimately, to make our life experiencie a reality.
To carry out this materialization we must first know ourselves, unblock our ego and leave the way free for the necessary changes to make us feel better, even if those changes are not necessarily what we would have expected.
We propose the "Meditation for Change" that Yogi Bhajan, teacher Kundalini Yoga, taught us.
SuperMoon 14 November 2016